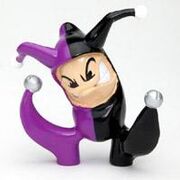 Shik is a jester Tech Deck Dude. He wears a full jester suit only showing his face. He wears two different colors with one side always being black. He wears bells on the ends of his shoes and on his hat.
Shik's newer design resembles more of a mime than a jester.
Shik's Profile is as followed on his case:
Name: Shik
Occupation: Entertainer
Home State: Minnesota
Hobbies; Skateboarding, Juggling
Education: Tumble U
Favorite Food: Pizza
Favorite TV Show: Walker Texas Ranger
Favorite Band: Hank Williams Jr.